MEALS FOR ONE served with rice and side dishes
Chicken Teriyaki
Stir-fried Chicken with teriyaki sauce.
Braised Beef Short Rib
Braised tender short ribs and vegetables cooked in soy sauce marinade.
Soybean Paste Stew
Featuring freshwater snails or beef brisket with mushroom zucchini, onion and tofu.
Stir Fry Webfoot Octopus
Stir fried Webfoot octopus and vegetables in a spicy sauce.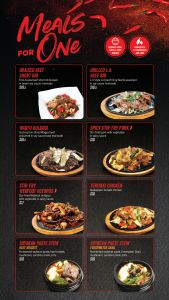 HOT POT & SHARED
Wagyu Fresh Beef Hot Pot
Fresh, thin Wagyu Beef with mushrooms and vegetable in a mild beef broth.
Spicy Pork Spare Rib Hot Pot
Braised Pork Spare Ribs served in a red chill based sauce.
Soft Tofu Stew
Soft Tofu served with Korean cabbage, egg, onion and zucchini in a spicy soup. Add Seafood, Kimchi/Dumpling or Vegtables to suit your taste.
Self-Serve Topokki
Stir fried rice cake stick, dumplings, noodles, egg, fish cake, ramen noodle and vegetables served in a spicy chilli soup.