Welcome to the Strathfield Sports Club Tennis Coaching Program. We offer key pilot programs that we believe is meaningful for the community and allows everyone an opportunity to have a go at tennis. Sports Manager/Head Coach Aimy has over 15 years of playing and coaching experience and is TA qualified. The team of coaches genuinely care about their students' development and tailors a program that is skill-based and combines technical and tactical elements for beginners to club players and high-performance tournament players.
One of the programs we are passionate about is the Inclusion & Diversity Program with Chalmer's Road School. Our goal is to help make tennis more accessible to all. Catered specifically for wheelchair tennis, blind/low vision, deaf/hard of hearing and learning disabilities, this is a program designed specifically for individuals and schools who seek to explore a physical sport that enables players an active participation in the sport and community. Get in touch with the Club today if you would like to be involved with our Inclusion & Diversity Program. View the gallery here.
Hot Shots Program
We accept Active Kids Vouchers! Dedicated to under 12s, we offer a learn through play age/level-based Hot Shots program in small class sizes (4 max per group) for 8 weeks during school term. Classes are set up with modified nets, age-appropriate lighter racquets and low compression balls. Each week focusses on one technical and tactical objective with the goal of being able to play a game of tennis in a serve, rally, score format. Orange and Green Stage lessons run for 60mins while Red Stage is 30mins. At the end of each term, there will be an assessment and a certificate for each child based on individual achievements throughout the term. Enrolments are accepted throughout the term pending availability. Enquire now as spaces are limited.
Ladies Clinics
Specifically tailored to ladies who are looking to improve certain parts of their game or trying tennis as a new sport. Our midweek Ladies Group are fun, energetic and likeminded in their love to get better at doubles and singles play. Every session is a small group with a maximum of only 4-5 per court/per coach. Lead by Head Coach and senior coaches.
Each lesson focuses on game based activities to improve the fundamentals of tennis – groundstrokes, volleys and serves. The goal is to build consistency, accuracy and the ability to play a social and/or competitive game or doubles and singles.
Tennis members and non-members are welcome. Monthly and school term passes available. Enquire for flexible options.
Register your interest here.
Please enquire at the Pro Shop for adult group coaching, semi-private and private lessons.
Cardio Tennis
Get fit in our high-energy, fast-paced and fun tennis session that combines drills and play-based activities. Each 45-min session is a variety of cardio workouts and tennis activities suited for all fitness levels. Experienced players can expect a challenge that increases their agility on court and become fitter at the same time. New to tennis? No worries, our TA qualified coach is trained to cater to all tennis and fitness levels. Come in comfortable activewear with a bottle of water and get ready to sweat! Sign up here.
Schools Tennis Program
Our student-led program is focussed on creating an encouraging environment that allows students to learn how to play the game of tennis in small groups using modified equipment, which lets them explore the tactical and technical elements of tennis. Our Schools Tennis Program fosters interest and physical activity amongst students so that they may continue the sport after their school journey. We are also involved in competitive squad training sessions for schools of interest. Enquiries welcome to email ivan@strathfieldsportsclub.com.au.
Junior Development Squads
As part of the junior tennis pathway, SSC has a number of development and performance squads for juniors based on their level/UTR score and tennis goals. Squads run for 2hours and focusses on match play, singles and doubles tactics as well as the tennis mental game. Improve endurance, match strategy and agility in this high-intensiy program. Squads are run throughout the school term with a maximum of 4 per group. Enquire now.
Coaching Staff
Aimy Chen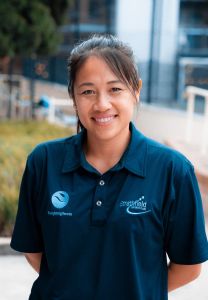 COACHING EXPERIENCE
15+ years in NZ & USA
Junior Development Squads
Primary to Secondary Age
Club players to adult beginners
COACHING QUALIFICATIONS
Tennis Australia Junior Development Coaching Course
Certificate III in Sport Coaching
TENNIS CAREER
South Carolina State University Division I Women's Tennis Team
Ranked NZ Junior top 10 for 14/u & 16/u
NZ 14/u Nationals Singles Winner & NZ 16/u Nationals Singles Runner-up
ITF 10k Taupo, NZ – Round of 32
ITF Grade 4 Singles Round of 16, Auckland, NZ
ITF Grade 5 Singles & Doubles Quarterfinals, Auckland, NZ
NZ 14/u Junior Fed Cup Team, Prostejov, Czech
Various Secondary Schools Competitions, NZ