Competitive tennis has made a welcome return to Strathfield Sports Club in recent weeks, with the Club entering eight teams in the Tennis NSW Winter Badge competition.
While the resumption of play has seen a number of our tennis members renew long standing combinations, there is a new team in town – and they're undefeated.
For the first time in many years, SSC is proud to have a women's team competing in our local district competition and they're certainly enjoying the camaraderie and match play.
Led by captain Jae In Kim, our ladies have already established some formidable pairings, starting the season with three consecutive wins.
"The women's team is basically a very new team this season," Jae In told SSC online.
"At the moment it's giving us motivation to hit more and practise more and basically get a group of women together, which did not exist before.
"I don't think we've ever had women being so motivated to play competitive tennis.
"It's the first time we've actually spoken and said 'hey let's do something!'"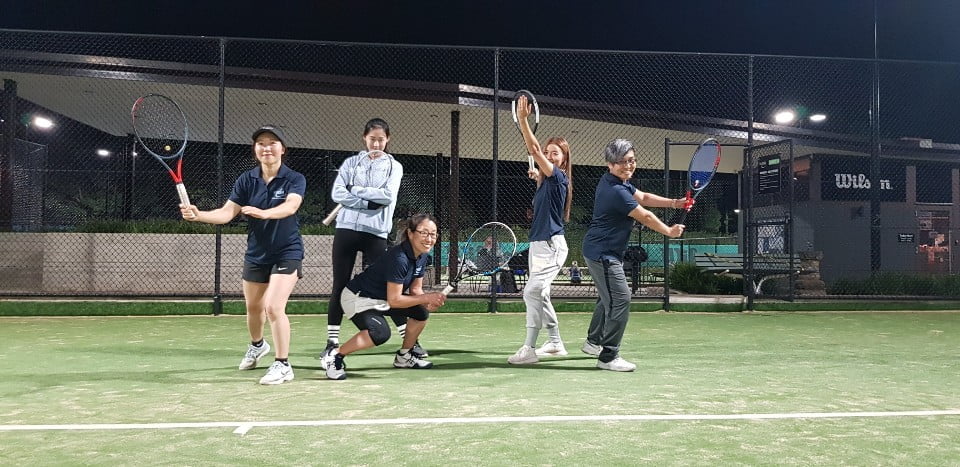 The ladies had their toughest match up to date on weekend, taking on the top of the table Neutral Bay Club on our home courts.
The tie went down to the final set with both teams claiming 4 sets each, however our ladies were victorious overall winning 34 games to 24.
"So far we've been undefeated, which is a really great start," said Jae In.
"We had a really close match with the league leaders but ended up coming out on top!"
A key to the strong results is the mentoring and practise the team has been receiving from coach Hyein Lee, who also plays on the team.
Hyein is part of the Club's experienced stable of WWTA coaches and you can find her giving lessons most afternoons, with her advice proving invaluable.
"She's got the experience of playing at a competitive level," said Jae In.
"She's been giving us tips on how to improve our technique and keep our mentality during the game.
"For us, that's something that's quite new. We get trained on how to stay focused and keep our composure during the game and I think that's something that comes naturally for her."
Our ladies team consists of: Jae In Kim (c), Kiyomi Kawahashi, Hana Bae, Eri Jinnaka, Lindsay Lee, Hye-Mi Jeon & Hyein Lee.
You can track how all our Strathfield teams are going this season here: https://leagues.tennis.com.au/  
For more information on Badge tennis and to enquire about representing the Club contact: proshop@strathfieldsportsclub.com.au