The 2020 Saturday Badge season finished up on the weekend, with Strathfield Sports Club fielding two teams in their respective division's Grand Final.
Without doubt the star performers this season were our Ladies team, who capped a remarkable debut campaign by winning their Division 5 final.
The Ladies were too strong for Beecroft Ladies 1 on our home courts, claiming a 6 sets, 42 games to 2 sets, 26 games victory.
"This was an incredible 15 weeks for Strathfield Ladies despite all the COVID-19 disruptions," captain Jae In Kim told SSC online.
"Being the first Strathfield Ladies team to represent the Club in a long time we are proud to have been able to make such an impressive start.
"We experienced lots of close matches throughout the season, with these thrills becoming the highlight of our weekends.
"It was amazing to be crowned winners of our division and we certainly made sure we had a big celebration afterwards."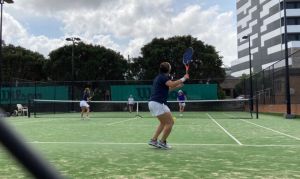 The result ensured the Ladies finished the season undefeated – so they'll no doubt welcome the challenge of potentially moving up a division next season.
"We will welcome a break for a few weeks but we're already excited for next season to start!" said Jae In.
"We've got all these plans and moves that we want to try out and practice.
"As the team captain, I think the best way I can summarise everything is that we are now preparing for a tennis "game" as opposed to just tennis!
"We now look forward to playing in a higher division and our training will start immediately from next week."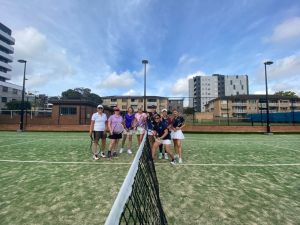 And Jae In had a message for any Strathfield Sports Club tennis member who was thinking of playing competitively.
"Playing as the Strathfield Ladies team is different to playing social tennis because it has given us a sense of belonging to the Club.
"Just wearing the Strathfield badge uniform gave us more motivation and energy!"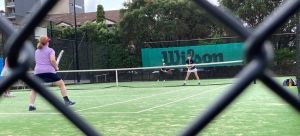 Our Men's Strathfield 6 side were also in their division's decider on the weekend, after getting the better of Strathfield 7 in their semi-final.
Unfortunately, Kooroora 5 proved to be too strong on the day, claiming a 6 sets, 41 games to 2 sets, 32 games victory in the Division 8 final.
A huge congratulations and thanks to everyone who represented SSC over what was a challenging 2020 campaign.
We look forward to welcoming back all our teams for the Summer edition of the competition and if you're a tennis member on the lookout for a team get in touch with the Everything Tennis staff.