The champions of the 2019 Focus edition of SSC's Wednesday night Round Robin Competition have been crowned following a thrilling final night of competition.
In what was the biggest and most dramatic competition to date, Alan Murray, Tammy Lee Thomas and Manik Chopra were the winners of their respective divisions.
Strathfield Sports Club provided prize money for all our finalists, with winners taking home $150 in club cash, while runners-up banked $100.
Entering into its fifth year, the Wednesday night Round Robin Competition has grown from strength to strength in 2019, under the astute and enthusiastic guidance of Mrigesh Tamang.
This highlight of the Strathfield Sports Club tennis calendar is run exclusively for members twice a year and continues to showcase the best talents from SSC's tennis membership base.
This season, there were over 25 participants across Division 1A, 1B, & 2 gunning for the title. The season was filled with outstanding performances across the board, with players pushing each other to their limits.
Along with a record number of participants, this season was also one of the most competitive it's ever been, with the recently promoted Alan Murray and Tammy Lee Thomas, continuing to take their form and skill to another level by winning the next division.
It's worth noting that rising star Tammy was the only female player in her division and she managed to beat all the other male participants.
This is the also the first time in the history of this competition that a newly promoted player has won the next division – a special achievement. Tammy has now been promoted to Division 1A where harder challenges await!
All the divisions were closely fought, with most of the matches on the final night of competition heading to deciders, ensuring the crowd was entertained throughout.
Finals Night Results Recap
In Division 1A, Alan Murray edged to victory over last season's runner up Tu Chung in straight sets. Alan continues to be a force in 1A and he will look to defend his title next year.
In Division 1B, Tammy proved herself by showing great tenacity and prevailing over the ever skillful Tarandeep Sadhu also in straight sets.
In Division 2, Manik Chopra claimed victory over Marcin Matusiak in a marathon match that lasted 3 sets.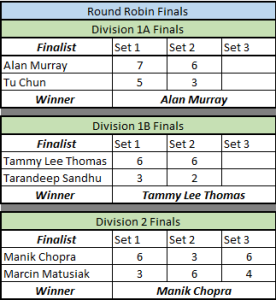 Some quotes from the Champions:
Alan Murray: "This tournament was incredible and every player had a chance to win. I just go lucky on the day. This is hands down the best comp in the southern hemisphere so I'm just happy to a part of it. Looking forward to the next season."
Tammy Lee Thomas: "Talent is a small part of tennis, but hard work and motivation pays off."
Manik Chopra: "Incredible energy amongst all players. Div 2 was fantastic. Real passionate and good friends. Excited for the next season and hoping to improve and keep the spirit of RR alive."
Congratulations to all the participants who played some great tennis throughout the season and contributed to the friendly rivalry we treasure at SSC.
Following the successful campaign, participants went to celebrate with their friends and family over a banquet of Korean Fried Chicken and a drink in the Clubhouse.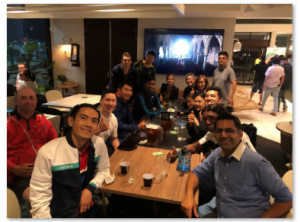 The Round Robin Competition will continue to be a premier competition event at SSC and will look to build on this success next year.
On behalf of all participants, a huge thank you to Strathfield Sports Club, Chris Dunn, and Everything Tennis for supporting the competition and providing the prizes and court bookings for the participants throughout the season.
Also, a special mention to Mrigesh Tamang and his dedicated team comprising, Steve Chen, Chanh Nguyen, Liang Wu, Shanta Prajapati and Amit Kumar for their organisation and management of Round Robin Competition, including media, results, and other logistics.
If you would to enter next season or to find out further information about Round Robin Competition you can follow the Facebook Page or the website.